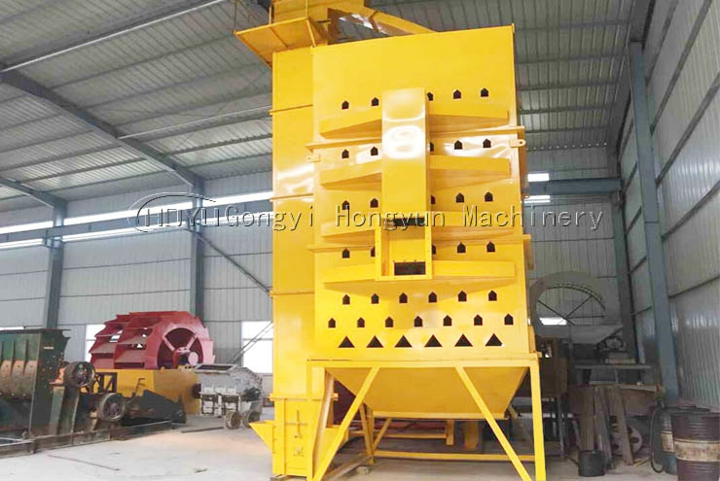 grain dryer
Type:
Grain dryer
Input Size:
Moisture range:
10%-40%
Processed Materials:
Applications:
Corn,wheat,rice,soybean,rapeseed and other granular grain
E-mail:hyjx@hyjxzzc.com
Overview
Features
Working principle
Technical data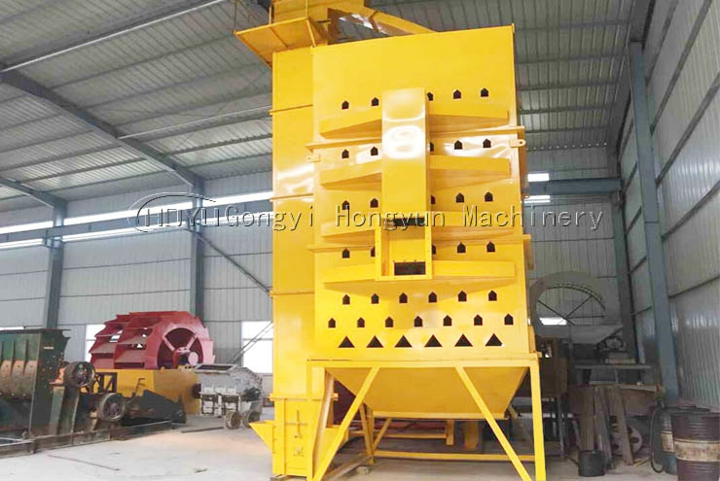 Grain dryer is the drying equipment which is designed for grain crops. It is mainly used for rice, corn, wheat, sorghum, soybean, rapeseed and other granular food and economic crop though low temperature air to reach desiccation. After drying, the crops have many advantages such as high quality, low crackle ratio, low temperature, large output and so on.
Structure characteristics:
Grain dryer is mainly composed of feeding device, bucket conveyor, drying box, precipitator, efficient hot blast stove, draught fan, online thermometer, rapid water meter, electrical control system and other systems. Among them, the hot blast stove can be used separately drying chili, cowpea, honeysuckle, vegetables and other sticks or block materials. In a word: multi-usage.
Performance characteristics:
Grain dryer can guarantee the quality of crops by using circulation drying method. Circulation drying method refers to work circularly among down-flow, counter flow and mixed flow which can effectively control drying chamber's temperature to make all the crops have enough contact with airflow. In the process of drying, there have less crushed phenomenon and very low crackle ratio so that it won't change crops' natural color and nutrition. What's more, the drying speed is very fast, dried crops can be sent out after rapid cooling. With the improvement of grain dryer, it has functions of eliminating dust, edulcoration and deinsectization to make the corps easier to save.
1.Color of the grain and rice after drying won't change obviously, there will be no burnt grain.
2. The moisture uniformity of discharging grain: ≤1% ( when feeding grain's moisture uniformity is under 3%)
3. Hot air temperature is under 60℃, the max temperature inside the dryer is under 38℃.
4. Crackle ratio:≤3% Break ratio:≤2%
5. Accuracy of automatic online moisture meter:≤±0.5%
Accuracy of temperature sensor:≤±1℃
6. The germination rate of the grain after drying won't reduce.
7. Moisture detection and control system adopt integration.
8. Feeding control device.
Grain dryer adopts rotary heating device, it can output enough hot air in a short time and kill eggs though high temperature. It also adopts digitization control and instrumentation to control drying box's temperature to avoid appearing discoloring and metamorphic phenomenon. Drying cabinet is made of metal aluminum plate and silica gel cotton insulation layer to reduce energy consumption effectively. Cyclotron system can reach the purpose of air circulation, humidification and heating in the drying box.
Model

5H-HY-150

5H-HY-200

5H-HY-230

5H-HY-250

5H-HY-280

5H-HY-300

5H-HY-330

Size(m)

1.5×1.5×8.5

2×2×10

2.3×2.2×12.5

2.5×2.3×14.7

2.8×2.5×16

3.3×2.8×18

3×3.3×20

Whole machine capacity (m3)

5.36

8.92

17.86

26.79

35.7

47.61

53.57

Handing capacity (t/h)

1.25

2

4

5

7.5

10

12.5

Handing capacity (t/day)

25

40

80

100

150

200

250

Drying cycle

3h

Reduction of moisture(%)

An average of 5 to 25

Moisture after drying(%)

14.5-15

Heating media

Clean hot air

Hot air temperature(℃)

<120

Highest heating temperature(℃)

corn 60-70、rice 55-60、wheat 55-60、sorghum 60-65

Moisture uniformity(%)

<2

Breakage increment(%)

<0.5

Heat consumption
(kj/kg H2O)

5800

Coal consumption
(kg/T)

20

20

25

25

28

28

28

Power (kw)

8.5

11.5

20.5

24.5

29.5

45

45

Weight (t)

furnace

3

3

4

4

4

5

5

Bucket elevator

1

1.2

1.4

1.6

1.8

2

3

Drying tower

3.6

4.6

6.2

7.4

10.4

12.6

15.2

Notes:The type with 300 t/day capacity can be made by adding two-layer drying box.
Please Feel free to give your inquiry in the form below.
We will reply you in 24 hours.