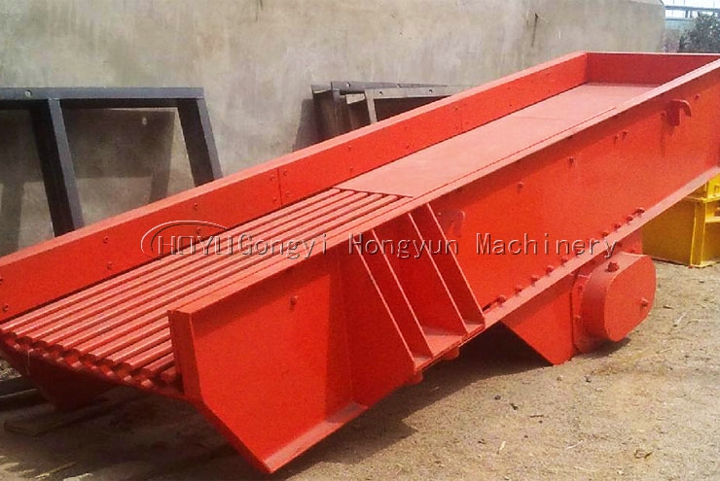 Vibrating Feeder
Type:
Necessary Equipment
Input Size:
0-1000 mm
Moisture range:
Processed Materials:
River Gravel, Granite, Basalt, Quartz, Iron ore, Diabase, Limestone, Coal Gangue etc..
Applications:
Aggregate Field, Concrete Mixing Plant, Dry Motar Plant Desulfurization, Quartz Sand etc.
E-mail:hyjx@hyjxzzc.com
Overview
Features
Working principle
Technical data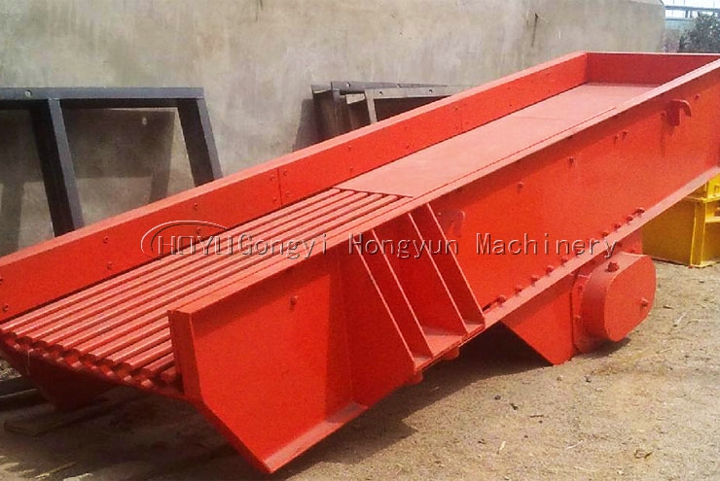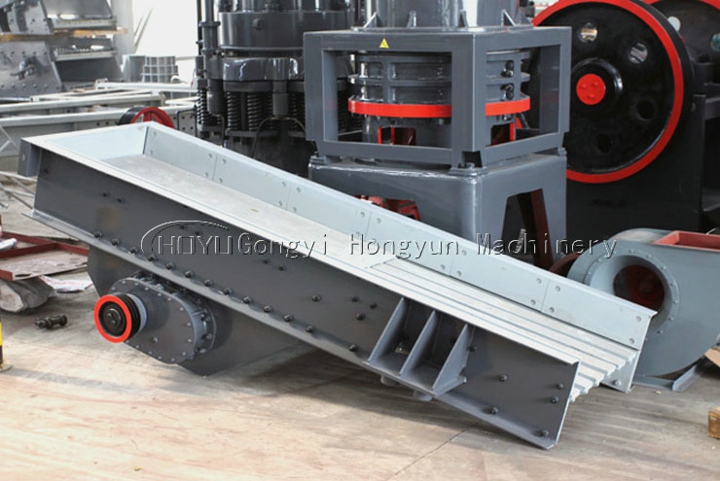 We manufacture professional quality Vibrating feeders used in industrial, mining, construction material, silicate and chemical plants. Our feeders are manufactured out of the most optimum quality raw materials.
Vibrating feeder can be developed in accordance with the specific need of clients. Due to performance, quality and competitive market prices our feeders for Crusher are in great demand. Feeders are designed and fine tuned to assure the uniform and regular flow of materials over the crusher, screening system and to the conveyors. The settings of feeder equipments can be adjusted according to the requirement.
It vibrates calmly, works reliably with a long life-span; its stimulating vibrancy power can be adjusted, while the flux can be changed and controlled, it is convenient and stable to adjust; Vibrating feeder's vibrating electrical engine is stimulating vibrancy fountain, with low noise, low cost of electricity, and good adjusting capability, without rushing phenomenon. Its structure is simple and works stably, and easy to adjust and install, and it is convenient to maintain and take care for its light weight and small size, and it can avoid powder and dust pollution when using the closed structural body.
Characters: Smooth vibration, reliable operation, long service life, low noise, low power consumption, easy to adjust, simple structure, easy to install, light weight, small volume, simple maintenance.
Vibrating feeder is designed based on the vibration principle. It creates vibration when the materials are passed into the funnel and screen. Vibrating feeder is made up of vibrating frame, vibrator, spring, motor and motor vibrating accessory. The vibrator contains two fixed eccentric shafts with jogged gears. And they create a high aptitude to vibrate the equipment.
Model

Feed chute size

(mm)

Max.feeding size

(mm)

Handling capacity

(t/h)

Power

(kW)

Overall dimension

(mm)

Weight(including motor)

(kgs)

GZD-960×3800

960×3800

500

90-160

11

3880×2240×1880

3980

GZD-1100×4200

1100×4200

600

120-240

15

4300×2450×2010

4170

GZD-1300×4900

1300×4900

600

150-400

18.5

4980×2705×2050

5200

GZD-1500×6000

1500×6000

800

460-575

30

6160×2920×2295

9000
Please Feel free to give your inquiry in the form below.
We will reply you in 24 hours.